regular readers of
j.flav
will already know that we're back home after lovely (impossibly short) long weekend in london. what an excellent trip and wonderful birthday :) i may have to insist on a long weekend away every year for my birthday....
so i turned 28 and no major calamities occured- my hairline is still receeding at the usual rate, so it's business as usual until 29.
i've got some pictures to post- j.mo pretty much covered all of the food-related activities already and since eating is the bulk of what we did i don't really have too much to tell you that you didn't already know. the food was awesome though- lys, i now know why wagamama left you weak in the knees. and our all veg indian dinner kicked ass, along with the two brunches we had. i was a little pained by the fact that a grande chai tea from stahbies costs the equivalent of $7us... that didn't stop me from having a second one though ;) london is just expensive- there's no way around it. everything costs so much money, especially when you show up with american dollars and a big appetite.
but it was worth every penny and it was so lovely to spend time with jon and mags. they're the best-est and i cannot wait for them to be back in boston.
alrighty- phototime...
the view from the top of a doubledeckah bus:
j.mo entering the tate for
another yoko inspired close encounter with modern art
: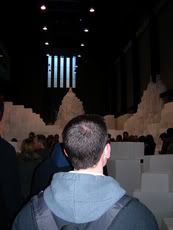 (i was nervously following him around- waiting for him to morph into modernartmonkey and scramble to the top and start tossing plastic boxes around, later to be escorted out and promptly deported)
my bday present from mags and jon was a trip for all of us on the london eye: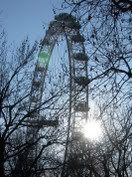 naturally the batteries in the digital camera just as we were sealed into our capsule and hoisted oh so high into the london sky, so all i have are a couple of snaps from my phone. my palms are starting to sweat again as i type this- it's really high up and takes about a half hour to go 'round. but the view was awesome, even if it did cause an ulcer.
there were lots of bad boots in london too- clearly this is a global epidemic, tragically overshadowed by the trvialities of bird flu:
i like these two a lot: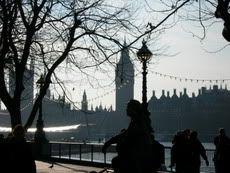 and now for the gluttons themselves...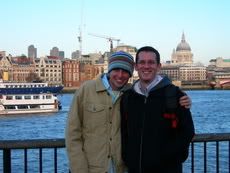 thank you j, mags and jon for such a wonderful weekend and a truly special birthday. i've got another post coming in a day or two re: the incredible birthday present j.mo got me.... so stay tuned.
hope everyone's week is off to a good start :)(: