wow- and then it was new year's eve. the holidays (actually all of 2006) was more or less a blur. since it's been a little while since i posted anything, let's have a little xmas recap. it was really nice of babyjesus to invite us to his birthday party once again- in spite of the whole living in homo-sin/eternal damnation technicality, no one seemed to mind that we were around to munch on festive jesuscookies and drink our fill of jesusjuice.
and nothing says christmas quite like the annualholidaybendah my mum goes on... here's the first clue as to the scale of what i'm talking about:
yeah, i wasn't joking. but you have to admit it does look pretty spectacular at night when it's dark out and the living room is ablaze- next year i'm going to get them a gift card from the electric company to help with the bill. i think it would also be wise if someone bought them a fire extinguisher as well.
there's a christmas tree under there somewhere:
thousands of beady little holiday eyes watching your every move: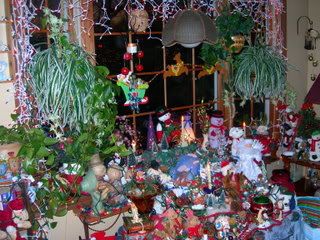 and switched on:
lights off:
lights on: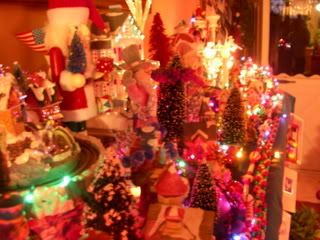 the happy parents: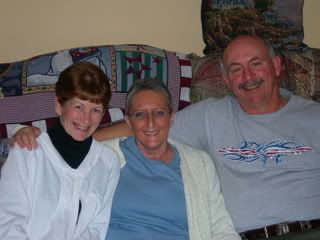 grandma and her boys:
you'll notice that j.mo and i are down to our t-shirts thanks to all of the heat being given off by xmasgroundzero: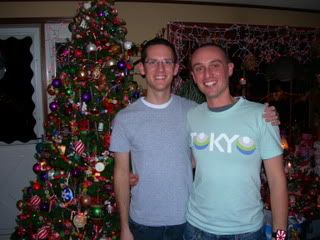 after the weekend in CT, j.mo and i returned home on xmas eve so that we could wake up in our own place, gorge on vegan brunch and open some gifts.
little johnny, in the zone: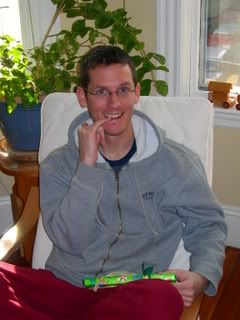 me with my new vegan cookbook:
blimpers, official miss massachusetts holidaycat 06: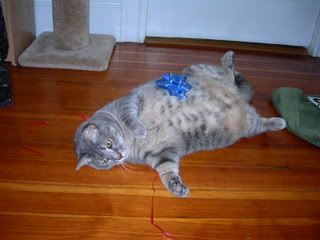 so christmas was really good and lots of fun. until j.mo and i both got knocked on our asses by various viruses. he has had some pretty hardcore 'tummy troubles' for days now. when i woke up at 4am friday morning to the sound of him throwing up i knew we were in serious trouble. john has titanicguts. this never happens to him. so he's been on the couch for days. every once in a while i drop off a new bottle of gatorade and a car magazine. poor guy. and i got hit with a nasty cold/sinus infection which everyone in CT had. i'd so take my ailments over j.mo's though, so i won't complain.
needless to say, it's shaping up to be a rockstar new year's at our place. pass the kleenex.
before i go (yes i still have more to ramble on about)... 2006 was a pretty crazy year. so much happened in the span of 12 months that it kinda makes my head spin to think back on all of it. we have a new home that i love (and a mortgage that i could do without), we both changed jobs, i started grad school, j.mo's mum had surgery, my mum dealt with a whole summer of chemo and radiation and on and on. it's been quite the ride. there were moments during this past year where i felt completely overwhelmed and wondered what else could possibly happen...? but i would look around and see this amazing love i share with my guy- and i would see all of our family and good friends. and the next day would come and somehow it was all ok.
i'm so thankful for everything we've got, for everyone that's here.
i hope everyone has a happy and safe new year's eve. see you back here next year :)(:
biglove,
g