wow- has it really been five weeks since the last time i posted anything?
i'm afraid so.
but tonight the stuffed shells are already in the oven baking away and school stuff is more or less done for the week... and the oscars are on. so the window of bloggingpossibility has briefly opened and like a doomed shuttle landing, i'm going for it. now i know you're probably scratching your head in bewilderment... the oscars are a required highholygayholiday, man-sandwiched between cher's never ending farewell tour and thursday's eyebrow waxing. but somehow, someway i missed out on that fruitysprinkle doublehelix twist with a kiss... and the gayhollywoodgene skipped right on over me. i don't know my helen hunts from my diane keatons. come to think of it, i'm damn lucky i'm not sitting here in a flannel bathrobe listening to k.d lang while my s/he motormomma cooks me up some dead cow.
so yeah-- the oscars are one of many annual phenomena that send me to bed early. once they wheel out joan rivers and top her up on anti-freeze i'm nowhere to be found:
she is looking a bit extra crisp this year, wouldn't you agree?
so what's happened the past few weeks? nothing too noteworthy. work is working me over. i just started a research project for school that lasts for two semesters and ends with a 60 page paper a la thesis in disguise. and i also turned 29 a few weeks ago. a couple of random pics from that night's pahty:
i'm now on a mission to matchmake william with my friend ny's daughter...
blimpers is still lahge and in charge in case anyone was concerened: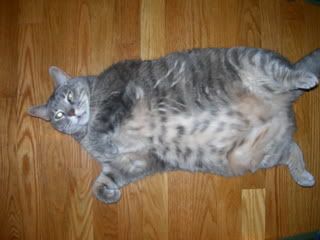 and this weekend i was more american than i have ever been- i went TV shopping. the TV j.mo and i had was a good ol' fashioned 19 inches of no-name kmart brand that my sister gave me when i graduated college (the first time). so for the past 8 years i've carted around this old tele:
but this weekend we went all out and got this (don't mind the gypsy home furnishings on wheels... we're going to west elm on friday to take care of that situation...)
42 inches of plasma goodness. next you know i'll be driving a hummer and tossing big mac wrappers out the window...
hope all is well with everyone.
biglove,
g