apparently
capitol hill is under lockdown
at the moment- gunfire may have been heard a little while ago...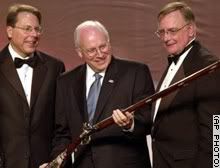 anyone know where our sharpshootin' vice pres is? that would be the first office i'd be checking...
it's ok though- Sergeant Pickle is on it:
'Senate Sergeant at Arms Bill Pickle told Reuters there were no reports of any arrests or injuries. '
Now we're just awaiting the all clear from General Gherkin.