i came home from work today (yes, i'm the sorry schlep operating in a perpetual sleep deficit that's working saturdays for the next 3 or 4 months to make up for having mondays off for school this past fall) to find
j.mo
in the kitchen up to his elbows in homemade meatball mix :P oh mastermeatball i bow to you. he also made homemade brownies. jealous? c'mon ladies- i bet there isn't a single one of you who isn't moist at the thought of j'mo's vegballs and brownies. i can't wait to get my gorge on.
i had been meaning to compose a music-inspired post (for reasons which i shall divulge shortly) but kept running out of time. or patience. or the desire to breathe, let alone type. but after last night it can't wait any longer.
the original inspiration for this post is this woman-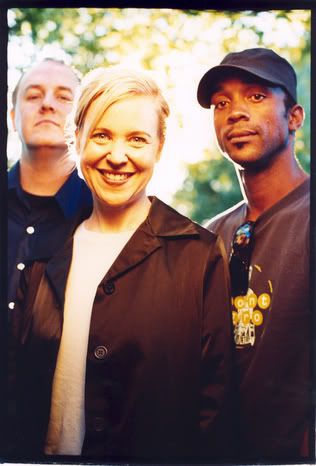 i've been listening to kristin hersh (seen here with her 50footwave bandmates) for a long time- she's an integral part of my daily soundtrack. in high school it was thowing muses. in college she went solo and completed operation win-me-over- entirely. and then she formed her new band 50footwave. with each incarnation she brings something different- from wholewheatrockinguitarbread to a hauntingly beautiful barebones lyrical genius... and my personal favorite mix of the two-
sunny border blue
. j.mo and i both agree it was by far the best album of 2001.
fifty foot wave recently released a five song ep of new tracks available for download for *free* at
www.throwingmusic.com/freemusic
i'll let k explain-
"Money has so polluted the music world that my overwhelming urge right now is to divorce money from recorded music. Over the last 2 years we've been relying on standard 'industry' channels to help us educate listeners about 50 Foot Wave and we've met resistance every step of the way -- caused by little other than money -- and to an extent I've never seen before.
So we're sending free recordings off into the world to do their work. If people enjoy these songs and are excited by them, we ask that they share them with others. The music business is about fame and huge profits -- egos and greed -- music itself, is not."
it's a point of view i more than respect. while the masses are spoonfed the plastic and the sparkle there's a whole world of amazing and beautiful music going on. people who love what they do and can really be called artists- and yet they struggle beacuase the popmusicmachinestreetsweeper never stops making its rounds.
so if you're into the idea of independent music, thoughtfully assembled, passionately played and carrying some real substance then have a listen.
and speaking of substance.
8 years ago on a whim i picked up
imogen heap's
first cd. i knew nothing about her but knew i instantly liked the cd. but then nothing seemed to happen for a real long time. i honestly didn't even know she was the front woman of frou frou until very recently. but then her new album
speak for yourself
landed and wow. even more amazing than the complexity of the sounds and her powerful voice is the fact that the project was entirely her own. she had to remortgage her flat in london to pay for it. and she did everything- all the lyrics, all the instruments and the mind-boggling computer stuff. and when all was said and done and the new cd was ready, then she went out looking for a record company to distribute it for her. talk about the ultimate way to maintain artistic control.
seeing her last night here in boston was simply wonderful.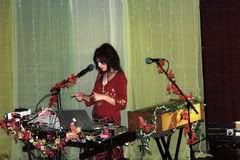 i suspect that if kristin landed on this same stage she'd look around and wonder if she had suffered some sort of tourbus-induced medical calamity and was now in and a soviet-era ICU. all those wires and electronic things and a laptop. while their finished products are lightyears apart on the musicicaltasteometer they both work from that same place- that place of unbounded creativity and true love for what they do. there's no formulated agenda for taking over the radio, no glossy g-string goody shots and i suspect they both still buy their own toothpaste- scandal!
so check out their websites, have a listen and enjoy- i know i do.
on a completely unrelatedly related note...
j.mo recently checked in on his mum, presently upstairs watching her 9th hour of tv... flipping between the home shopping network and pax. (let's face it an hour spent watching della reese touching angelbits or an hour spent watching pseudomoomoos on parade for $79.99 each- who could choose??) anyways- he asked if she wanted any food- nope. any brownies? nope. (mind you her sweetooth is about to rot out of her head- literally)
the reason why? she went to church today and had a cheeseburger from mcdonald's on the way home. cheeseburgers with jesus.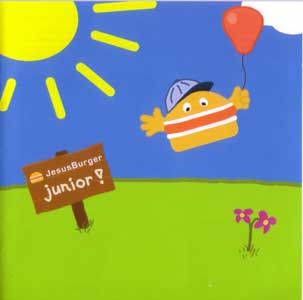 god help/save/take her.
(or strike me down)
on that note- time for *my* brownie and coolwhip finale. then i'm going to hoist myself up the stairs to bed and sleep until june.