dear gspotinc readers... this is an older/previouslypostedpost... but if you check the comments you'll learn that the real leanne braman (or someone who believes they are leanne braman)has paid us all a visit.
there's a rather funny photo on
boston.com
at the moment: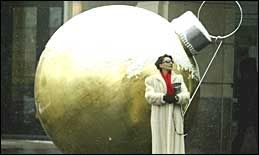 with this caption-
Leanne Braman of Florida enjoyed the snow at a Prudential Center holiday display yesterday. A storm tonight could make for a messy commute tomorrow.
Does this rich bitch decked out in rare albino cheetah fur really look like she's 'enjoying the snow?'
I think she actually just purchased a giant solid gold ornament from tiffany's and is unhappily awaiting the arrival of her army of low-paid imported domestics to cart the thing over to beacon hill on their backs with her riding on top. You can't fool me boston.com