howdy...
somehow three weeks have passed since the last time i posted anything here. that means i've got three weeks-worth of randomness to ramble on about. lucky you.
so this is month number 2 of the new job and the dust is finally starting to settle. my last job was very comfie- it didn't pay all that great, but there were lots of opportunities to travel and it was insanely quiet most of the year. so there was ample time to do homework, take 2 hour gym breaks and i rarely had to stay late... my new job is the complete polar opposite- from the moment i arrive in the am until i finally give up at the end of the day it's a whirlwind of triage, training, and general airline-related craziness. but anytime i start to question my decision all i have to do is remind myself that it was a raise of sabado gigante proportions and it's a profitable company that isn't about to go under/be bought out/have the electricity cut off for non payment. so i guess fair is fair.
this past week we had a quarterly corporate meeting- since there are about 180 employees, there's no space big enough for all of us to get together in our own building. so we all headed over to a swank-y function room at one of the nearby buildings in the financial district. seeing the early am sun coming up over the city was gorgeous: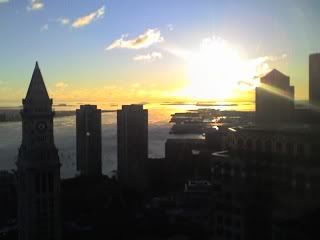 i had a choke-hold on my stahbies the rest of the morning. not exactly riveting stuff whe you're knee-deep in fresh squeezed corpricana in the early am.
having the past month off from school has been bliss. i've been able to enjoy the holidays and real weekends again and not be exhasuted 24-7. but that's all about to end again on monday- it's back.....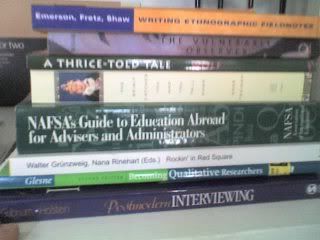 one of this semester's classes will be lovely: international education exchange. the other, however, isn't going to do much to raise the pulse: dimensions and methods of cultural exploration 1. yup, that's right- this is part 1. next fall will be part 2. i'm already yawning. oh well- not much you can do about required courses.
this coming week
kristin hersh
has a new cd coming out and i couldn't be more excited- she's been my favorite for quite some time now and never fails to disappoint. froggie, this is for you:
so that's about all i suppose... my parents are on their way up to boston to spend the day and celebrate my
birthday. it's not actually until next weekend, but they like to do things early ;) i'm still not entirely sure how i feel about turning 29. 3-0 is getting close. real close.

hope everyone is having a good weekend. i'll try to drop by more often.

biglove,
g