My nearest and dearest Annie recently trekked all around Alaska and today I finally had a look at the photos.
I'm really enjoying this particularly fine objet d'art: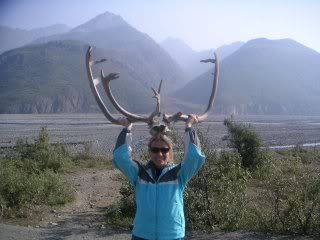 What a rack!
Lippy (aka lipid/aka the nickname spawned in 10th grade science class) and lil g have a long history- From tooling around
the thriving metropolis
in her inherited tractor of a ford tempo to marveling at the wonder that was a diaper-wearing rottweiler named megan that belonged to the tiny old french woman that Annie stayed with while studying abroad. We can recite pages of dialogue from National Lampoon's Christmas Vacation and she's one of few women I know who would willingly help demolish an entire broccoli pizza (with fries) and then down a pint of ben and jerry's.
A couple of years ago John surprised me on my birthday by flying Annie and my other gurl Mojo to Boston for the weekend and it was the best present I've ever been given (mad props to my mistah!)... These days we don't get to see nearly enough of each other, but nothing could ever change my absolute love for this girl :)(: