i'm a big fan of clif bars. they're nutritious and filling (no easy feat here!) and mostly yumma.
during our most recent visit to the
best place on earth to buy food
i was very excited to see that there were two new seasonal clif bar flavors:
this one is awesome- everything you'd expect from a soft'n'chewy iced gingerbread cookie.
this one, however, was absolutely rank. don't be fooled by the whole autumnal advertising thing.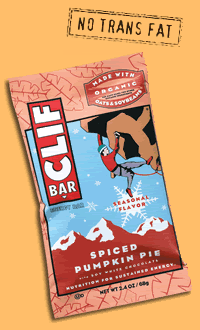 you know those cute jack-o-lanterns we made for halloween? the ones that are still sitting on the front porch, rapidly turning a lovely shade of brown and mushifying as the days go by? i felt like i was chomping on one of those aged beauties as i tried to 'enjoy' my post workout clif bar. don't they taste test these things??