yesterday was john's high-holy-holiday, the new england international auto show. (thank god the tummy flu that had him on the couch all day today didn't strike yesterday! poor guy- i felt so bad for him when i was finally unshackled from my bottomless groupwork and came home at 6p to find him curled up on the couch with blimpers watching 60mins.)
so after several of these auto shows the past few years, i can finally say that i'm coming to appreciate the whole thing as more than stepping into a giant issue of road & track magazine while keeping a nervous eye on the nearest exit at all times. this year i was extra excited to see the new 4-door wranglers *and* i also got fries. i've definitely decided that anything involving fries and jeeps can't be all that bad :) my dad and our friend jon also came along for the ride... here are a few pics:
here we are in my honda element:
happy john, front seat. happy jon, back seat:
john and big g:
anyone unsure of what to get me for xmas- i'll take this one please:
and by my favorite picture of the day, j.mo's in the zone: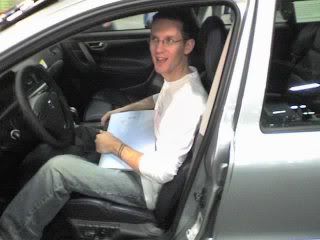 how cute is that pic?
after the show we had a few more people turn up at our place for a hearty dinner of homemade lentil soup and bread and a couple of glasses of wine. but that's about where the enjoyable weekend ended- from there on out the rest of my weekend was a blur of social capital, vietnamese youth, hurrican katrina, powerpoint and papercuts. from 10a-6p i was at school working on a group project to prepare for our 75 minute presentation on thursday night. all was not lost, however- the dining hall where we did all our work today hosts and all you can squeal brunch buffet for $5.25. naturally i ate my weight in homefries and french toast.
so now it's nearly monday (again). my last full week at my current job- next week i'll still be there too, but with the short week because of thanksgiving this week really feels like it's more or less the end. and then.... stay tuned. time for travel job #5 since leaving australia at the end of 1999. it will be nothing but non-stop glitz'n'glam as i return to my roots as supervisor of air operations. but first, i'd rather focus on all the stuffing and mashed potatoes that are just around the corner :)
hope everyone's week gets off to a good start...
biglove,
g