we interrupt this program to bring you an important public service announcement.
utility poles leaning like they're about to topple over… case in point- waiting for the train this morning: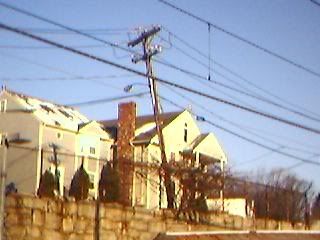 any moment now the wood is gonna snap and those that survive the spray of rocket propelled splinters are likely to have their legs crushed when the whole thing comes crashing down. (or if you're
j.mo
you'll probably get electrocuted in the inescapable tangle of wires)
it's not right- i see these everywhere we go. i'm sure jmo thinks i'm crazy. maybe i should get a giant map of boston up on the wall and starting marking them with pins. i'll have our spare room looking like a scene from a beautiful mind in no time.
but all this telephone pole anxiety is for good reason-
four+ years ago jmo and i were driving down dot (aka dorchester) ave when about 7 or 8 blocks ahead of us one of those big sturdy looking cement streetlamp poles came crashing down right across the street and broke into big ol' chunks- thank god it missed all the cars nearby and there was no one standing on the sidewalk because it would have been real ugly.
now i bet you're gonna start noticing them too…
ps- i asked santa for a helmet this year.