this is my very first blog post from my supaflash new 'puter, thanks to my rather generous and thoughtful papi. my old laptop had just about lived out the last of its days, with my most recent paper writing experience featuring me needing to plug in a spare keyboard since none of the punctuation or symbols would work... it's going to take a little while to get used to all things mac, but i'm already in love.
yesterday i ran my first roadrace evuh- 5 miles, 42mins13secs... i came in 361st out of a bit more than 1000 peeps, so i was happy :) mags was there as our official cheerleader, so hopefully i'll have some pics soon. we're already talking about a half marathon this fall. stay tuned! in the meantime, last weekend j.mo and i went to see a sox game on saturday night. we had awesome seats and the weather could not have been more perfect....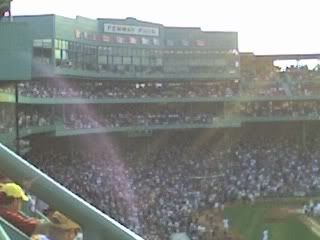 how adorable is my green monstah?
alrighty- it's friday night and it's time to turn off the computer, stuff myself full of leftovers and then crash on the couch, pinned under the weight of my own gut until i pass out (probably before 10p). i'm so ready for retirement.
have a good weekend...
g